Research Focus
Biomechanics and transport in living tissues. Identification of mechanisms that trigger diseases and the design of new tools for prevention and treatment.

Research Summary
Professor Schmid-Schoenbein`s premise is that the microcirculation is unique to each person, just like the genome, and diseases are manifest in the microcirculation years before they become evident at the clinical level.  His research is focused on transport in living tissues, cellular and molecular biomechanics and mechanotransduction and their application to cell and organ dysfunctions.  His team discovered a previously unknown mechanism for disease and end-of-life organ failure, that is triggered by the digestive enzymes from gastrointestinal tract.  They showed that the same digestive enzymes, responsible for daily digestion of food, also leak from the intestine and degrade cell and organs outside the intestine, a process they coined "Autodigestion".  Digestive enzymes cause destruction of tissue structures and their components, cleavage of membrane receptors and thereby generate diverse forms of organ dysfunctions.  
The team develops a next generation technology to detect digestive enzymes, and they pioneer new interventions to minimize the degrading activity of digestive enzymes outside the intestine.  In collaboration with clinical colleagues they test these interventions in patients in formal clinical trials.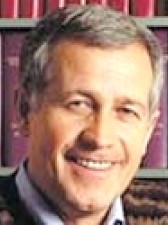 Lab Website
---
Email:
gschmid@ucsd.edu
Bio
Geert W. Schmid-Schoenbein is Distinguished Professor and former Chair of the Department of Bioengineering at UC San Diego, which is where he received his graduate degree.  He conducted postdoctoral research at Columbia University after which he returned to UC San Diego.  He is Founding Member of American Institute of Medical and Biological Engineering, former President of the Biomedical Engineering Society, the Microcirculatory Society and the North American Society of Biorheology.  He is Past-Chair of the World Council for Biomechanics and the US National Committee for Biomechanics and is Member of the National Academy of Engineering.