Mechanical and Aerospace Engineering
Professor
Research Focus
Nanobiotechnology, multidimensional biological atomic force microscopy, ion channel biophysics and nanomedicine.
Research Summary
Professor Lal is an authority on biomedical applications of atomic force microscopy (AFM) and nanoscale imaging of complex biological systems. Research in his lab involves the development of nanotechnologies for and multi-scale biophysical and system biology studies of channels and receptors. His lab also designs nanosensors and devices for biomedical diagnostics and therapeutics. Current projects include i) structure-function study of hemichannels in heart, breast and liver, ii) structure-function study of amyloid ion channels in degenerative diseases, iii)) nanomechanical properties, cytoskeletal organization and sustenance of normal and abnormal cells, iv) designing multimodal "Smart AFM" integrating AFM, Optical Tweezers, electrical recording, and single molecule microscopy, and v) designing nanodevices and BioMEMs for array-based screening of therapeutics and their delivery and tissue engineering. He has presented many international keynote lectures and his work has featured in many popular magazines and news media, including Time, Smithsonian and UPI.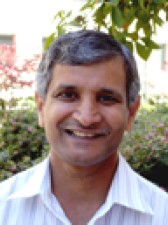 Lab Website
---
Email:
rlal@ucsd.edu
Bio
Lal is a professor of Bioengineering, Mechanical Engineering, Material Science & Engineering, and Co-Director of Center for Excellence in Nanomedcine and Engineering at UC San Diego. He received his MS and Masters of Philosophy in Physics and Biophysics from JNU in New Delhi and his Ph.D. in Neurobiology from the University of Alabama. After postdoctoral training at Caltech, he was a faculty member at the University of Chicago and the University of California at Santa Barbara. Before accpeting his current position at UC San Diego, he was a professor and the director of the newly established Center of Nanomedicine at the University of Chicago. He is a Fellow of AAAS (the American Association for Advancement of Science) and a Fellow of the American Institute of Medical and Biological Engineering (AIMBE). He was a visiting professor at the Chinese Academy of Sciences, Institute for Applied Physics, Shanghai. Before, he was the UTS Invited Professor in Sydney for the Bionanotechnology initiative and a New Zealand Government International Science Scholar. Professor Lal is an Associate Editor of the Journal Nanomedicine: Nanotechnology, Biology, Medicine. He is the Chairman of Vessel ANI, Inc, Ampera Life, Inc and is on advisory board of RC Nano LLC and Be Green Packaging LLC. Professor Lal served on the NIH Nano study section. In addition to seminal research publications in the field of nanomedicine, he holds several patents based upon AFM cantilever arrays, microfluidics, optoelectronics and nanotubes for medical diagnostics and medical nanodevices, nanoscale fluid behavior and new TIRF, FRET and related optical microscopy.